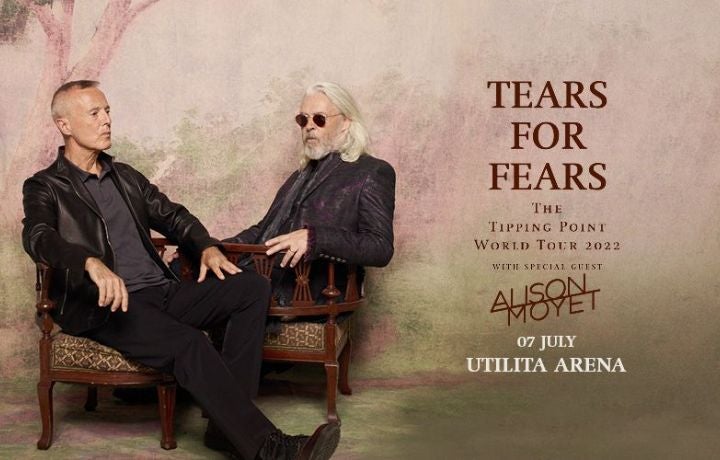 Tears for Fears
The Tipping Point World Tour 2022 with Special Guest Alison Moyet
Date

7

July

, 2022

Event Starts

7:30 PM

Doors Open

6:00 PM

Ticket Prices

£45.00, £65.00, £67.95, £85.00

On Sale

On Sale Now
Event Details
Doors opening: 6pm
Show start: 7:30pm
Interval: 8:15pm
Show end:10:15pm
Show timings are subject to change
November 12th, 2021 – Today, the legendary duo Tears For Fears have announced UK tour dates in support of the forthcoming release of their first new studio album in nearly two decades, THE TIPPING POINT, which is released 25th February. Tickets on sale now.
As part of The Tipping Point World Tour the band will be touring the UK in July 2022 with special guest Alison Moyet, including Utilita Arena Newcastle on the 7th July 2022. Fans who pre-order The Tipping Point from the band's official store will be eligible for an exclusive ticket pre-order from the 17th November, two days before the tickets go on general sale.
Also on sale from the band's official store as of this Friday is an exclusive limited edition PINK vinyl version of The Tipping Point.
Speaking about going back out on the road Curt Smith said, "We couldn't be more excited to start playing concerts again. We've missed seeing our friends on the road around the world and the energy of performing live." Roland Orzabal shared "The Tipping Point has been a long time in the making and we are looking forward to playing our favourites from the new album as well as our classics from throughout the years."
Arriving on the 25th February The Tipping Point is the band's first album since their reunion album Everybody Loves A Happy Ending in 2004. Since then, the band have toured extensively, including a sold-out UK arena tour and in 2017 released Rule The World, a best-of compilation that returned the band to upper reaches of the album charts once more. In September of 2022 the band were honored with the Outstanding Song Collection Award at the 2021 Ivor Novello Awards.
When asked why make The Tipping Point now? Roland Orzabal says, "Before everything went so right with this album, everything first had to go wrong, it took years, but something happens when we put our heads together. We've got this balance, this push-me-pull-you thing – and it works really well." Curt Smith agrees, "If that balance doesn't work on a Tears For Fears album, the whole thing just doesn't work. To put it in simple terms, a Tears For Fears record and what people perceive to be the sound of Tears For Fears – is the stuff we can both agree on."
Tears For Fears were one of the most iconic bands of the '80s, selling over 30 million albums worldwide with singles such as "Shout," "Everybody Wants To Rule The World," "Mad World," "Sowing The Seeds Of Love," and "Woman In Chains" acknowledged as classics.
The Tipping Point is the bold, beautiful and powerful sound of Tears For Fears finding themselves together, once again.
Additional Ticket Information
Please note facilities fees of 2.50 per ticket and booking fees apply
Fast track access at venue
Prime View Seat
Access to our members only Hospitality Live Lounge
Glass of prosecco on arrival to the lounge
Deli style sharing platter suitable for your party size
If you already have purchased tickets, then you can still upgrade to our Hospitality Packages. Simply call us on 0191 260 6023.
The small print:
You can access the Lounge from full doors until after the interval (if applicable)
Access to the Lounge is via 4 steps
Alcohol only available to over 18s – ID may be required
Your preshow glass of prosecco and sharing platter can be redeemed from the bar upon arrival to the lounge
Card bar facilities will be available within the lounge
Event details and timings may be subject to change
Exclusive hire of 10 seater Executive Suite
Suite Host
Fast track access at venue
Glass of prosecco on arrival
£300 to spend behind the bar
Chefs selection buffet (dietary requirements can be catered for)
Car Parking for 3 cars
If you already have purchased tickets, then you can still upgrade to our Hospitality Packages. Simply call us on 0191 260 6023.
The small print:-
You can access the Executive Suite from full doors until the end of the event
Executive suites are located above the balcony seating area
Alcohol only available to over 18s - ID may be required
Card beverage facilities will be available within the suite
Event details and timings may be subject to change
Suite Seat package:-
· Fast track entry into the venue via our VIP entrance
· An event ticket located within our shared Executive Suite
· 1 Pre-show drink of either a bottle of beer, glass of wine or a soft drink
· Host service within the suite for additional beverage requirements

The Small Print:-
• You can access the Executive suite from full doors until the end of the show.
• Executive suites are located above the balcony seating area.
• The Executive Suite is a shared suite with other patrons.
• Access is via 3 steps.
• Alcohol only available to over 18's – ID may be required.
• Card beverage facilities will be available within the suite via host service.
• Event details and timings may be subject to change.
• Your drink will be served before the start of the event approximately 10 minutes after arrival to the suite